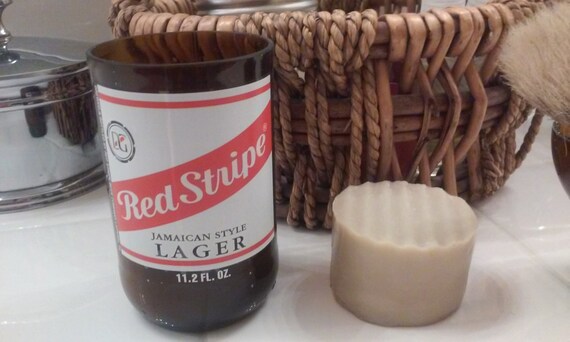 This listing is for a a beer bottle shaving mug with handmade lavender and cedar soap.
This is and idea I have had for a long time that came about from a combination of my wife making soap and me drinking beer. Her soap is awesome!
This listing is for an upcycled cut 11.2 oz. Red Stripe beer bottle with a sizable 3 oz. round bar of lavender and cedar shaving soap. The soap is handmade by cold process. The beer bottle is sanded where cut for a smooth finish.
The soap contains: coconut oil, caster oil, sunflower oil, olive oil, shortening, lavender cedar essential oil, calcium bentonite clay, lye, and deionized water.https://www.etsy.com/listing/230204647/red-stripe-beer-bottle-shaving-mug-with?ref=listings_manager_grid